Payroll Services
Payroll is very complicated but necessary for your business to grow.
We offer payroll services customized to fit your needs and your ability.
We can:
Prepare payroll checks and/or amounts
Calculate tax liabilities and let you know when they are due.
Prepare Quarterly Federal and state payroll reports.
Prepare W-2's at year-end.
Help with problems from any of the Payroll Tax Authorities if there is a problem.
Help with Workers Comp reports and audits.
Our rates are reasonable and competitive, so check us out.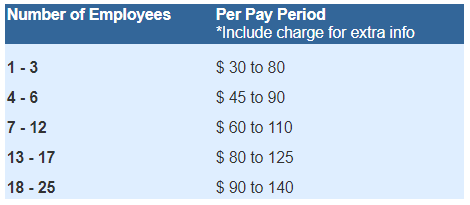 *Please note Extra Charges for:
Prevailing wage Jobs.
Re-calculation due to Employer error.
Wage Garnishment.
Workers Compensation Insurance Report.
Workers Compensation or Liability Insurance Audits.
Employee Benefit Plan in Payroll (401K).
Rush Payroll (less than 24 hours notice to calculate):


Payroll Return Prices:


We cannot accommodate business with more than 20 employees.